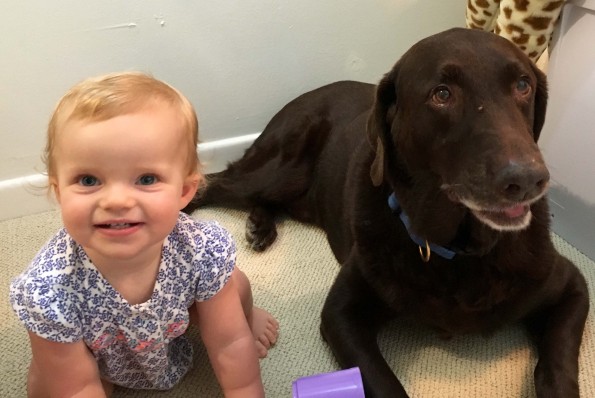 Hi Everyone!
Please accept my sincere apawlogies for not blogging a lot lately.  My baby sister Jocelyn has been keeping me VERY busy!  I really didn't understand how much work it is to be a big brother!  My sister is growing up so fast and I'm trying to teach her all of the important things she needs to know and do.  As you can see in the picture, she is really good at panting!  I've also taught her about going on walks, napping, checking our yard for squirrels, and looking out for delivery trucks…and especially the mailman.  She is catching on pretty well!
We've also talked a lot about sharing, and boy is she great at it!  Until she came along, I had never even tasted macaroni and cheese, Goldfish, watermelon and lots of other yummy snacks.  But now I get to sample them all the time thanks to my sweet sister.  My favorite spot to hang out is right next to her high chair.  The food just comes flying off it!  I especially love having Cheerios again…they remind me of when I was a tiny rescue puppy and my Dad was training me to obey commands.  Now I find Cheerios that Jocelyn puts aside for me pretty much everywhere!  She is the best.
However, my Mom and Dad have warned my sister about certain foods she is NOT supposed to share (some of them are even her favorites like avocado!) so I thought I'd post a reminder about the big 'no-no' foods for dogs.  Remember to keep these out of your furbaby's reach at all times:
Avocados
Candy & Gum
Chocolate
Coffee & Caffeine
Onions
Garlic
Grapes
Milk and Dairy products
Macadamia Nuts
Peaches, Plums & Persimmons
Raisins
Yeast Dough
If you think your dog has gotten into any of the above, let us know right away!
Well, I have to get back to work.  Between my full-time job as clinic greeter and being a big brother, I don't have a lot of spare time but I'll try to write again soon.
Until then, I hope you have a pawsome day!
–Bernie