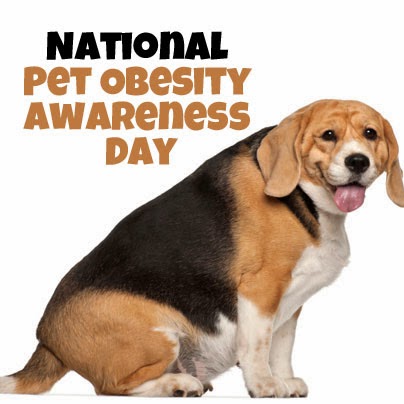 Hi everyone, Bernie here!
It's October, and boy oh boy has this year flown by!
As you may know, I am an avid fan of eating…treats, my own food, my sister's food…everything! With my love for food comes the responsibility of maintaining my handsome figure. I really should not be eating as many treats as I do, but let's face it, how could you resist my cute face?
To help you maintain your pet's healthy weight, her are a few tips:
Did someone say dog park?  I get it…not all of us enjoy time with other dogs as much as some, but your dog should really be getting at least 30 minutes of exercise a day.  They could join you for a walk or a run!  That sounds like fun! (Followed by a long nap)
Your dog should avoid eating table scraps, no matter how much they like cleaning up after their 2-legged siblings!
Dogs are not really good at portion control, so they need their humans to help feed them the right amount of food.
Here are some healthy treats that your dog will love (in moderation of course):
-Carrots–crunching on these orange sticks are great for our teeth!
-Apples–an excellent source of vitamins A and C…just make sure you remove the core and seeds before giving them
to your dog
-Canned Green Beans–these are a treat that surprisingly most dogs love!
-Plain Rice Cakes–yes, the boring styrofoam ones that humans don't like, dogs actually love!
For cats that are overweight, increase their playtime activity.  If you're brave enough, you can even teach them to walk using a harness!
A cat's diet is very important in keeping their figure in tip top shape.  Try to feed your cat a specific measured amount at designated times instead of leaving food out all day, which will help increase their metabolism.
Some fun toys that cats might enjoy are: a laser pointer, a pole with a string and a feather attached (we have some of these available for purchas) or catnip stuffed toys.
For more information about keeping your pet healthy visit:
AKC list of healthy fruits and veggies for your dog or cat
Top Ten Tips to keeping your cat in shape